What laws have changed recently?
Since our last newsletter in April, law changes to assist businesses, local government, and central government agencies to deal with the effects of the COVID-19 outbreak have continued.
Over the last few weeks, the Government has refocused on its legislative agenda and we are seeing a lot of change in the lead up to the election.
A National Transition Period is in place
The COVID-19 State of National Emergency was lifted on 13 May 2020 and a National Transition Period is in place until 10 August 2020 (unless it is extended or ended earlier).
During this period, the National Recovery Manager and Police have certain powers including directing people to stop activities that may cause, or substantially contribute to the consequences of, the spread of COVID-19.
A new legal framework for responding to COVID-19 was also put in place through the COVID-19 Public Health Response Act 2020.
The Epidemic Preparedness (COVID-19) Notice 2020 was renewed and is now due to expire on 24 September 2020 (but can be revoked earlier). This continues the special powers of medical officers of health and means that many temporary COVID-19 changes continue in force.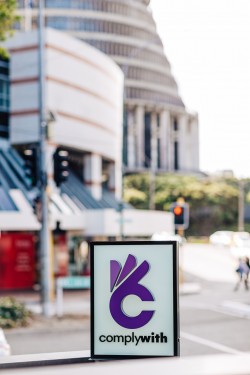 Key COVID-19 changes
Some of the key recent COVID-19 law changes include:
Further tax changes include:

Inland Revenue can grant loans to eligible small-to-medium businesses under the Small Business Cashflow (Loan) Scheme
Loss carry back measures were added for organisations with taxable income in the 2018-19 or 2019-20 tax year that anticipate a net loss in the next tax year.

Changes were made to allow employees entitled to parental leave to temporarily return to work in response to the COVID-19 outbreak without losing their remaining entitlements to parental leave. Information about the changes is on the Employment New Zealand website.
Temporary 'safe harbours' from personal liability were added for directors of certain companies facing significant liquidity problems because of COVID-19 if certain conditions are met. These apply to 30 September 2020 (but can be extended).
On 16 June 2020, the Overseas Investment Act regime was strengthened to include a temporary emergency notification requirement and a new national interest assessment for some transactions.
Timeframes in various Acts have been extended or suspended including:

Vehicle licences, warrants of fitness, and certificates of fitness that expired after 1 January 2020, or 1 March 2020 for licence endorsements, are temporarily extended
For owners of buildings with evacuation schemes under the Fire and Emergency New Zealand Act, trial evacuations aren't required (and evacuation training programmes don't need to be implemented) while the Epidemic Preparedness (COVID-19) Notice is in force
Some timeframes in the Employment Relations Act for initiating and conducting collective bargaining were extended by the number of days during which the COVID-19 epidemic notice is in force
Certain timeframes in the Financial Markets Conduct Act and Financial Markets Conduct Regulations were extended by 2 months including the timeframe for FMC reporting entities to prepare and file audited financial statements
Registration of a food control plan, or food business, that expires during, or in the 4 weeks immediately after, a COVID-19 lockdown period can be renewed if certain requirements are met.

Changes have been made to the Credit Contracts and Consumer Finance Act, including:

Between 13 May and 21 October 2020, exemptions from certain disclosure timeframes were added for certain creditors where a debtor is experiencing financial difficulties due to COVID-19
Some of the new rules for high-cost consumer credit contracts came into force on 1 May 2020 and the remaining rules on 1 June 2020.
More COVID-19 changes for certain sectors
Electricity
An urgent Code amendment came into force on 20 May 2020 and expires on 20 February 2021. It requires:

the 6 largest distributors to give qualifying traders an extra 60 days to pay for distribution services
all distributors to not increase the prudential security required from qualifying traders at 1 May 2020 (and if security has already been required that would now breach this restriction, it must be refunded or released by 27 May 2020).

The due date for the annual compliance statement required under the 2015 price-quality path (and the PowerCo and Wellington Electricity customised price-quality paths) was extended to 17 August 2020.
Central government
Shareholding Ministers and responsible Ministers were given new powers to extend the timeframes for certain planning documents by up to 3 months because of COVID-19.
These changes are repealed on 1 October 2020.
Local government
COVID-19 changes for local government include:
The following temporary changes were made on 16 May 2020 and will be repealed on various dates between 1 August 2020 and 1 July 2021:

Local authorities are excused from publishing certain notices in the newspaper if it isn't reasonably practicable to do so because of COVID-19.
Local authorities can use a modified approach to the special consultative procedure if satisfied that it is necessary or desirable to support measures taken to contain or mitigate the outbreak of COVID-19 or its effects.
The consultation document used to consult on a proposed amendment to the long term plan, and the long term plan that is amended after this consultation, don't need to contain a report from the Auditor-General if certain conditions are met.
The Valuer-General can agree to the general revaluation of the district valuation roll being carried out no later than 1 year after it is due.
The revocation of certain bylaws that aren't reviewed within the required timeframes is delayed until 1 July 2021.
Resource Management Act documents to be made available for inspection at council offices or libraries can now be put on an internet site and advice given about obtaining or accessing the document.
Consent authorities can use remote access facilities for hearings if certain conditions are met.

While the Epidemic Preparedness (COVID-19) Notice 2020 is in force, the prohibition on a person acting as a council member until they have made an oral declaration at a council meeting and a written declaration attested in the required way, is modified.
Residential landlords
The temporary COVID-19 restrictions on terminating residential tenancies under the Residential Tenancies Act ended on 25 June 2020. Rent increases are not allowed until 26 September 2020.
Aviation
On 18 May 2020, an exemption was made for pilots whose 3-month instrument rating (IR) currency has lapsed or will lapse between 15 March 2020 and 30 July 2020.
The exemption extends the normal IR currency requirements for 3 months from the lapsed currency date or until 31 July 2020 (whichever comes first). It expires on 31 July 2020 (unless withdrawn earlier).
Owners of cattle and deer
The usual 48 hour timeframes under the National Animal Identification and Tracing Act have applied from 13 May 2020 when the COVID-19 State of National Emergency was lifted.
Recent key non-COVID changes
The Employment Relations (Triangular Employment) Amendment Act 2019 came into force on 27 June 2020 expanding the options for personal grievance in triangular employment situations.
The Climate Change Response (Emissions Trading Reform) Amendment Act 2020 came into force on 23 June 2020. Some of the changes included restricting the ability to pay instead of surrendering units and changing the dates when certain agriculture activities become subject to the emissions trading scheme.
What's coming up?
The Resource Management Amendment Bill had its third reading on 25 June 2020 and most of the Bill will come into force the day after it receives the Royal assent. The Bill includes a new freshwater planning process.
The Privacy Bill had its third reading on 26 June and will come into force on 1 December 2020.
Paid parental leave will increase from 22 weeks to 26 weeks on 1 July 2020.
On 1 July 2020, the levies on gas industry participants for the 2020/21 financial year will come into force.
Local authorities (and organisations funded by them providing regulated services) must complete safety checks of all existing children's workers by 1 September 2020.
Changes to the requirements for significant surgical procedures under the Animal Welfare Act have been delayed until 2021 because of the COVID-19 outbreak.
The Government is progressing some key bills under urgency including the Equal Pay Amendment Bill, Education and Training Bill, and Public Service Legislation Bill. This suggests these Bills may be passed before the election.