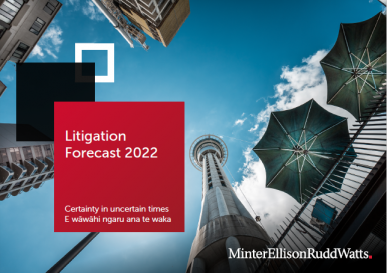 The ominously titled chapter 'The regulators: More stick less carrot?' maps out increases in resourcing of, and focus on, enforcement action by regulators like the Commerce Commission, Financial Markets Authority, Privacy Commissioner, and WorkSafe.
Under the heading 'Ever increasing risks for directors and managers' the paper notes that the trend of new 'personal-type' duties that started with the Health and Safety at Work Act's officers' duty to exercise due diligence to ensure the organisation complies with its legal duties, will continue this year.
New personal duties on directors and senior managers are identified in areas like climate-related disclosure requirements, deposit takers, and lenders under a consumer credit contract.
Another example of individual personal liability which is not mentioned in the Minter's paper is found in the new Water Services Act 2021, where officers, employees, and agents of a drinking water supplier must exercise due diligence to make sure that supplier complies with its legislative duties.
With the drivers to comply with the laws being greater than ever, it's worrying that many organisations either don't have any legal compliance programme, or if they do, its just window-dressing tick-boxing.
ComplyWith is privileged to work with over 150 organisations committed to doing legal compliance better. We help give their people real clarity about the ever-changing law, and enable proactive identification of legal risks, before they become real problems.